5 Fabulous Ideas for Designing Inviting Outdoor Spaces
August 7, 2020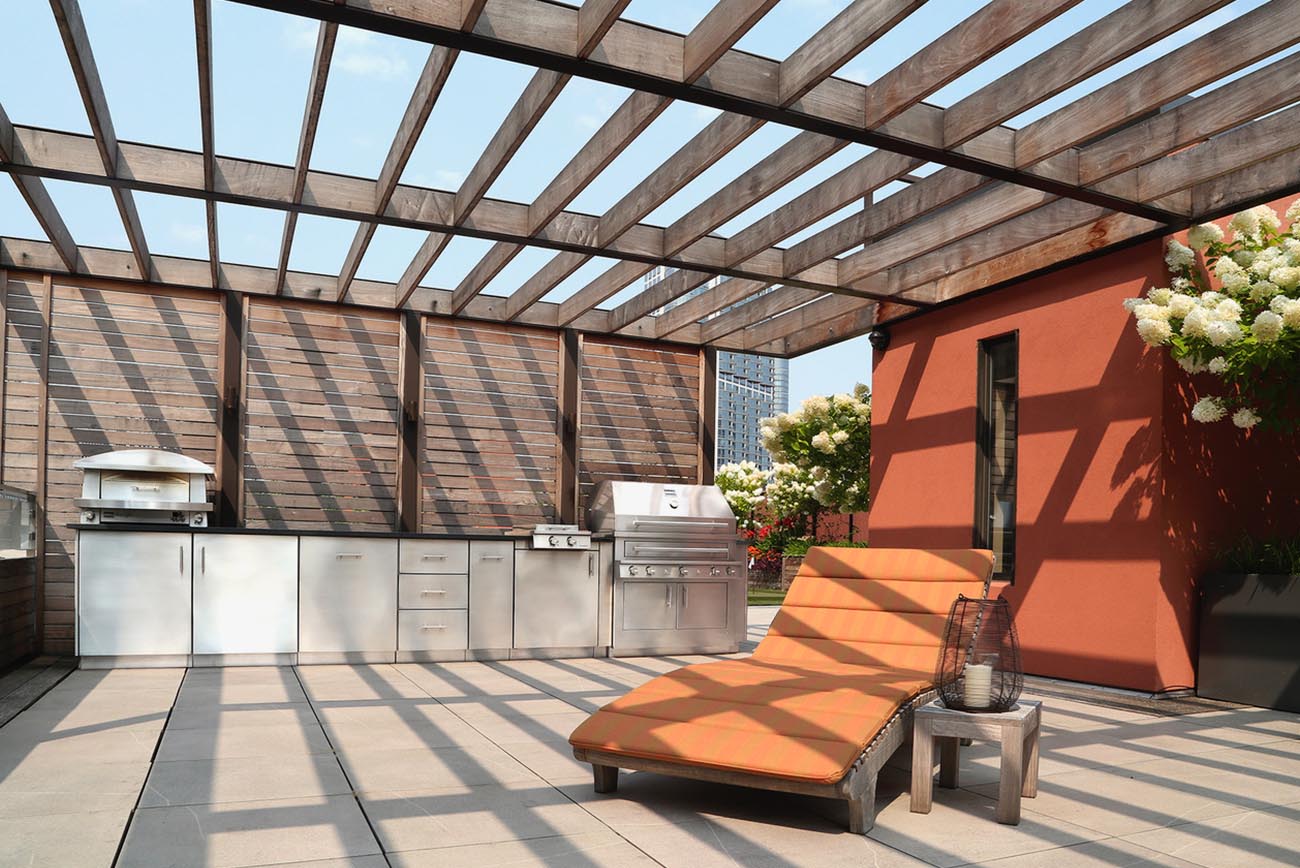 Summertime is the perfect time to spend outdoors with family and friends. If you have any outdoor spaces, you could transform them into inviting spots for a quiet afternoon of reading, eating breakfast, or a lovely lunch. You could also invite friends over for a barbecue or just hanging out. Here are some interesting ideas for designing your patio, backyard, or terrace into extra living areas. Remember, the key here is to have flexibility. You should be able to use the area for lounging, dining, working, or even, as a play area for the kids and pets.
1. YOU'LL NEED TO CREATE A SHELTERED SPACE – OR, THE IMPRESSION OF SHELTER
Although spending time outdoors is wonderful, you need some shade from the elements. If you have partial shade from an overhang, that's great. But if you don't, consider adding a gazebo, canopy, or a pergola that lets the sunshine peek in dappled spots and adds to the appeal. You'll love the impression of style and elegance that pergolas add, especially when they add shelter for an informal luncheon or drinks and light bites. Alternatively, opt for a ceiling created out of meshed hickory branches or install an awning that can be folded back when needed. Patios with adequate space look great with a folding umbrella, and a dining table and chairs.
2. ADD SCREENS FOR A HINT OF PRIVACY WITHOUT TAKING AWAY FROM THE OPEN-AIR FEEL
While you do want to create inviting outdoor spaces, you'll also want privacy without taking away from the delight of open areas with lots of fresh air and sunshine. Consider installing a trellis with plants for a green screen. Depending on the floor area you're working with, set up tall plants around the perimeter for enclosing the area. Plants are not exactly walls but they create an informal screen allowing you to relax and stay out of sight during sunbathing sessions. In many urban Chicago neighborhoods, garage deck views are encumbered by unsightly power lines, but adding privacy screening makes that negative disappear without feeling enclosed. Your designer might also recommend that you consider getting latticework screens or aluminum panels that are now available in a stunning range of patterns and low maintenance materials. They allow the free flow of air and natural light but maintain the idea of privacy.
3. CHOOSE A THEME THAT REFLECTS THE INTERIORS OF YOUR HOME
When working out the theme and style of your outdoor spaces, make sure to follow the interior design. The folks at Chicago Roof Deck and Garden advise you to create a flow between the indoors and outdoors for a seamless ambiance. Choose an amalgamation of materials and color palettes that complement each other so that when you step outside, you have the impression of harmony. The furniture, plantings, accessories like throw pillows should blend together beautifully. For instance, if you have antique oak hardwood floors, the terrace outside would have chiseled, hand-cut stones. Designers also like to play around with flooring options like crushed oyster shells, faux grass, pea gravel, and tiny black pebbles.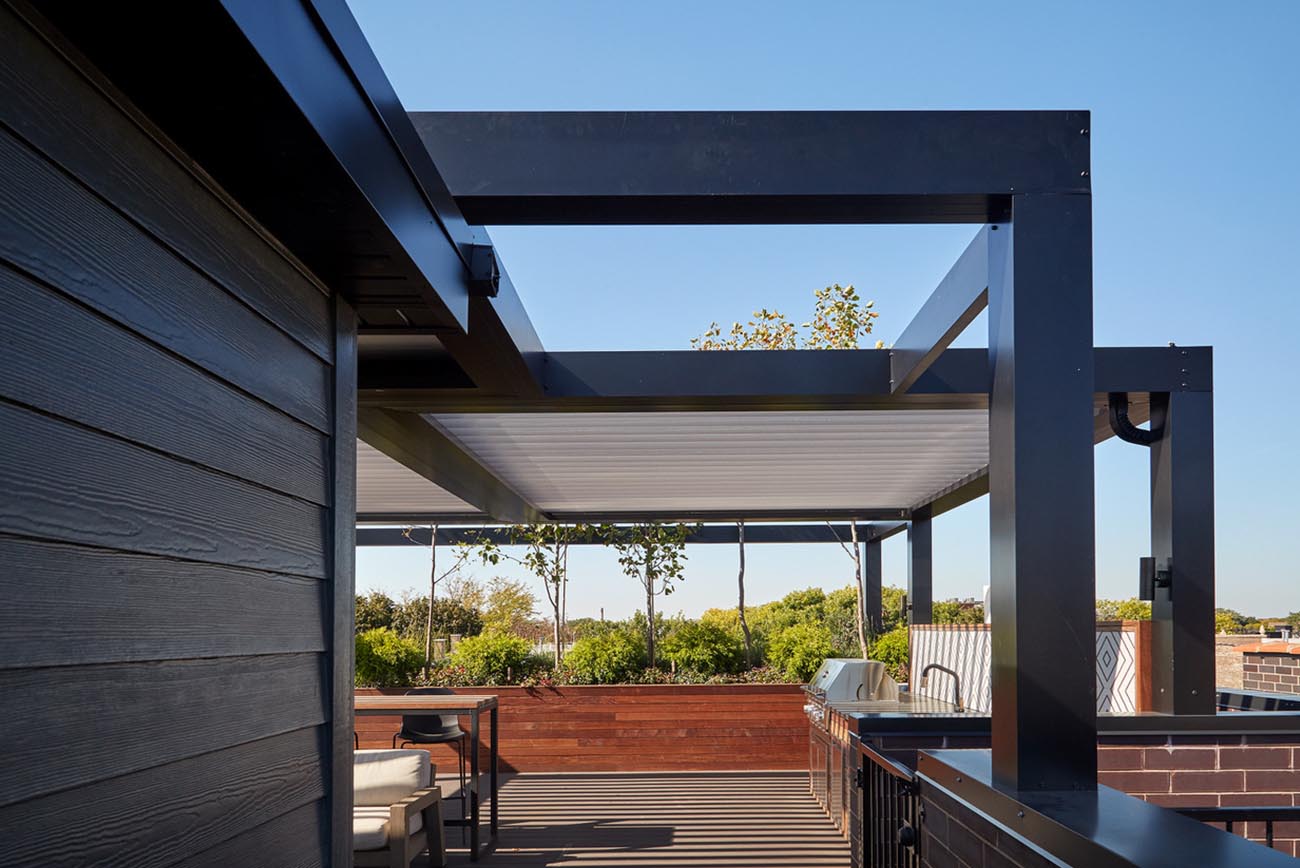 4. LET'S TALK ABOUT THE FURNITURE
The furniture you choose will depend on how you intend to use this amazing outdoor space. Do you see yourself sitting back, putting your feet up with a tall chilled beverage within reach? In that case, you'll look at options like low sofas with a center table, a chaise lounge, and perhaps, a rocking chair. Add a bunch of throw pillows, and in place of a larger table, you could opt for smaller ones that also serve as coffee tables. If you intend to invite people over and entertain, you'll need a buffet table for setting up meals along with a drinks counter. Make sure to have plenty of seating space and a barbecue on one side.
5. READY FOR ACCESSORIES?
Coffee tables and buffet tables are very versatile pieces of furniture. When you don't need the flat surfaces to serve food, use them to place crystal bowls of different sizes, vases for flowers, candle stands, and other delicate sculptures. If you have an exterior wall, dress it up with paintings, mirrors, or wall-mounted planters. Vertical gardens also work well if you don't have an open backyard or a lawn outside. Do add fancy light fixtures that can add an element of romance. LED-based string lights, hanging pendants, and wall lights liven up the spaces in the evenings.
The underlying essence of decorating any outdoor spaces is the ease of maintenance. Keep in mind that the area is exposed to the elements, so you'll need to invest in materials that are weather-resistant and won't spoil in the rain, snow, and sunshine. Pick materials like solution-dyed acrylic, porcelain, powder couted wrought iron or best Aluminum, wicker that are easy to clean and can be maintained by wiping or hosing down. if wood then only IPE to stay as long as we desire.
 
Any kind of outdoor space that you might have is like an exciting blank canvas with an immense range of possibilities. At Chicago Roof Deck, we specialize in creating exciting outdoor areas where you would love to spend time with loved ones or entertain. Would you like to explore your options? Call this number: (773) 857-2277 and we'll drop by for a quick look around.