What Would You Like to Do With Your Outdoor Spaces? 7 Exciting Ideas
March 25, 2021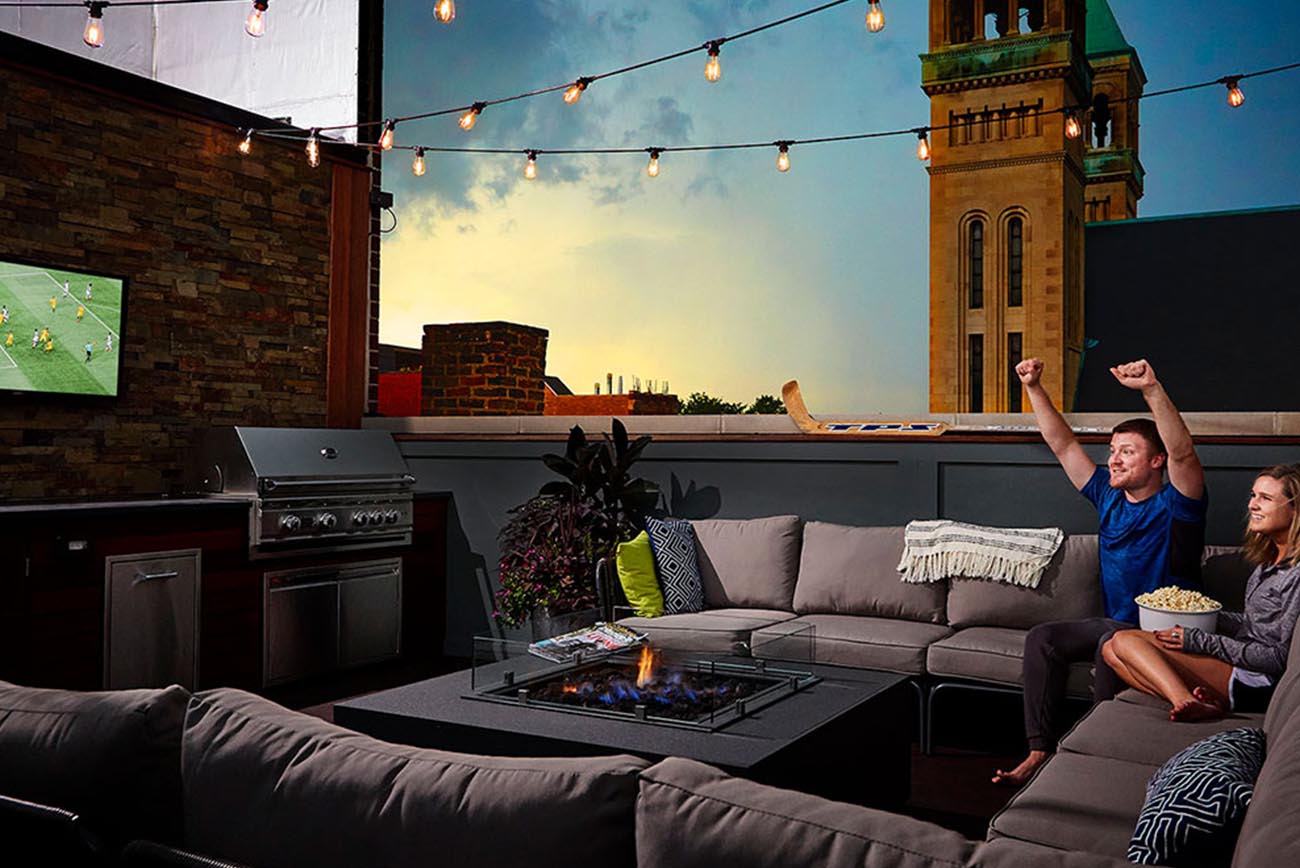 The trend toward creating delightful living spaces on your deck or patio has been catching on since the last few years. But, the COVID-19 pandemic and stay-at-home norms have spurred the interest in developing stylish areas for spending time. With a little imagination and a generous dose of creativity, your outdoor space can transform into a gorgeous, inviting extension of your home that lets you enjoy the sunshine and fresh air. The exciting thing about the deck is that it is very versatile and can include any feature you like. Let's take a look at some exciting ideas you can try.
1. LOUNGE AND LIVING AREA
We'll start off with the most fundamental use – setting up a comfortable space for soaking up the gentle breezes and warmth of summers. However, your deck could also be made to be suitable (enclosed) for lounging in winters. You would furnish the area with comfortable, deep sofas for sinking into and sipping drinking amidst pleasant conversations with loved ones. Add garden chairs, hammocks, and swing sofas for the warm weather and heating options for the cooler months so you can continue to use the deck all round the year.
2. HOME GYMS FOR WORKING OUT
Fitness enthusiasts who are dedicated to keeping up with their workout routines during the lockdown will need a home gym on their deck. Invest in the equipment you need such as a yoga mat, resistance bands, weights, kettlebells for strength training, or just a jump rope. Depending on the load-bearing capacity of the patio and compliance with building codes, you can install larger machines like a bench press or treadmill. Add synthetic plants or turf to add an impression of tranquility and a Zen-like ambiance for practicing yoga, meditation, or disciplines like tai chi. And, if you like to get a hot shower right after an invigorating session, think about adding an alfresco stall to freshen up quickly.
The most critical requirement of your outdoor lounge area would be privacy. Integrate no maintenance synthetic green wall for screening or a pergola for shade. You will have the sunshine peeking through the slats and providing just enough natural light to illuminate the area. Adding a trellis with plants trailing over the frame, windows placed carefully, and perhaps, a retractable roof could infuse just the required amount of seclusion and romance.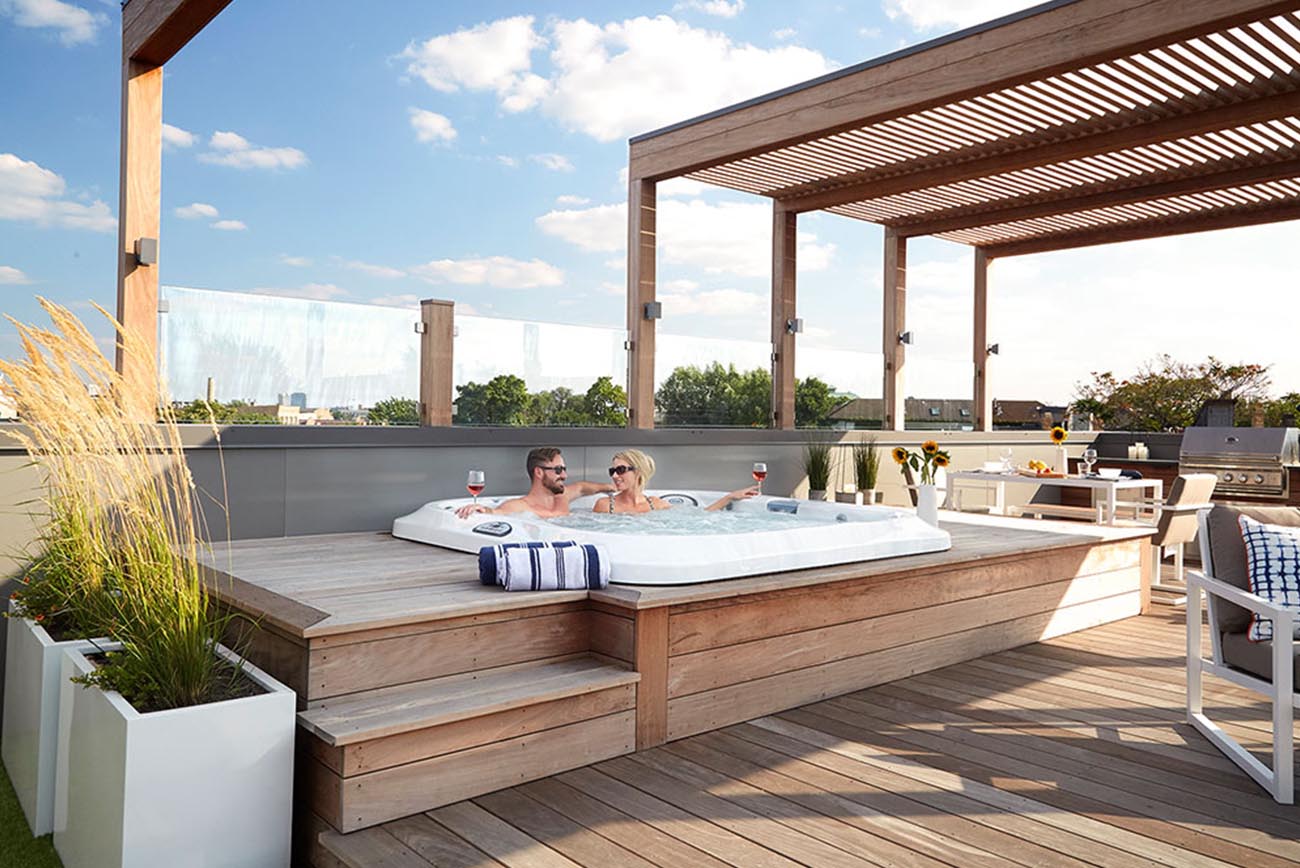 4. SWIM SPAS AND JACUZZIS
How about infusing hydrotherapy into your relaxations? Consider installing a swim spa or a hot tub where you can luxuriate with a glass of wine. Slip into the pool to soothe away the aches and pains and stress from a long, hard day at work. Or, join your partner for a romantic evening with candles and aromatherapy. Swim spas are highly versatile amenities and you can also use them for working out underwater to add resistance training to your routine. Our architects at Chicago Roof Deck and Garden can help you with checking the load-bearing capacity of your deck.
If you're a work-from-home professional, your outdoor space is an excellent spot for setting up an office. Allow the fresh air and tranquility to jumpstart your creativity. You'll also avoid mental blocks and boredom while also developing interesting backdrops for Zoom meetings. Setting up a coffee and snack counter close by is a great idea so you won't have to pop back and forth into the house for your caffeine fix.
6. KITCHENS FOR BARBECUES AND SNACKS
Residents who intend to entertain a lot or spend almost all their time outdoors would want to integrate a kitchen. Depending on the functionality you hope to get out of your outdoor kitchen, you can consider installing a lavish barbecue complete with a hot plate and counter for prepping salads, cabinets for storing utensils, and fridge for drinks. Having a sink for washing up is an added positive and do consider getting a separate bar counter complete with stools for sitting.
Whether or not you have an outdoor kitchen, consider installing a trendy dining area with a beautiful all weather chandelier under your veranda to illuminate the delicious meals you cook. Go for a four to six-seater or larger table according to the space you have available. Connect with the family over a delightful breakfast or share your day over dinner.
Blending your indoor and outdoor spaces for a seamless flow is essential for style and aesthetics. Most importantly, you'll need an expert architect to incorporate all the possible usage you need from the deck and organize the layout efficiently. At Chicago Roof Deck and Garden, we have tons of ideas to share with you. Give us a 
call
 and we'd love to come by for a quick look around. Whatever may be the functionality you wish to get from the deck, we'll make it happen.