How to Organize A/V Entertainment Systems on Your Rooftop Deck
May 5, 2021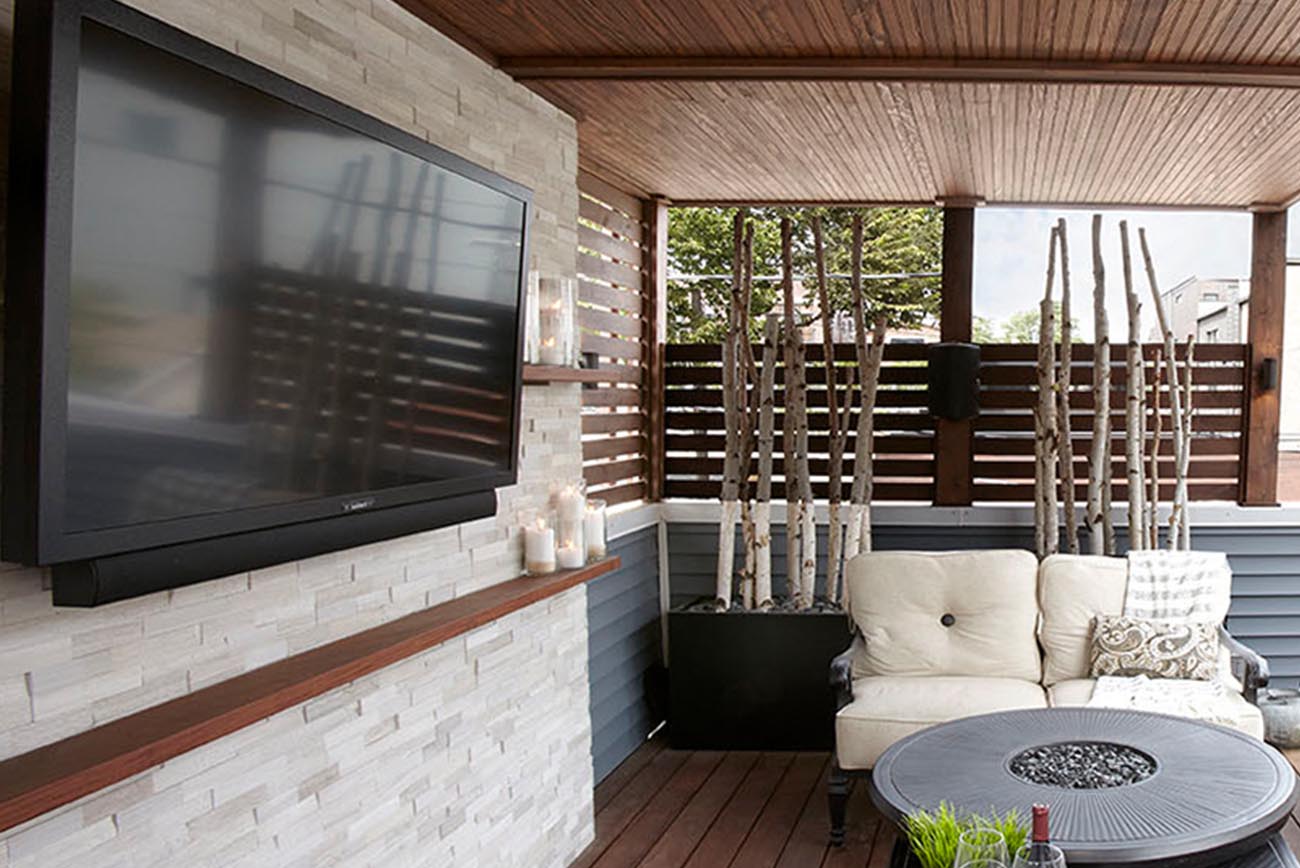 Developing your deck into a fantastic outdoor living area is a great idea. You'll customize the spaces according to the functionality you intend to get from it. Work-from-home professionals may want to set up an office while couples may look forward to a relaxing soak in their alfresco swim spas. If you intend to entertain a lot and have adequate floor area, you could consider installing a fully-equipped kitchen and dining table. Whatever may be your plans, the key essential is a great A/V system.
INSTALLING ELECTRONICS NEEDS CAREFUL PLANNING
What better way to enjoy summer than with a chilled drink in hand, loads of snacks, the company of friends, and the game on the hi-def TV with surround sound. Or, maybe a quiet romantic dinner for two, with soft music playing in the background. Setting up an entertainment system on your patio or rooftop deck requires careful planning since your electronics will be exposed to Chicago's harsh weather conditions. It is advisable to call in the experts to advise you how to organize the equipment and keep it safe. They'll incorporate the wiring into the decor when designing the furniture, lighting, and other elements.
A big-screen TV is likely to be the highlight of your deck in summers. Your dealer will direct you on the appropriate video systems that are specifically designed for outdoor use, complete with an anti glare screen. You'll also need rugged equipment that can withstand extreme heat, cold, windy, and wet conditions and insects. Not only will you need a covered patio area with good airflow, but you'll also need retractable housing that can be used to secure the electronics within a wooden or glass casing in bad weather.
If you would like to use a projector and screen, you could go for weatherized versions that descend into or pop up from custom housing. But, our experts recommend that you go with big-screen TVs since they perform better in Chicago's weather.
Audio systems are a lot more complex when you're looking to set up a surround sound experience. The experts at Chicago Roof Deck and Garden will recommend the appropriate placement of the speakers according to the size and dimensions of your deck. In addition to the distance between the speakers, you'll also need advice on the height at which to install them.
Mounted speakers can have in-ceiling or in-wall styles that remain protected from the elements because of their recessed placing. The on-wall option is preferred by Chicagoans for settings like patios or pergolas with eaves that can conceal the speakers without affecting their sound quality. Our technicians will take care to limit the distance between the audio systems to around 10 feet. On the other hand, if you have a larger rooftop deck, you'll need a detailed audio set up that can ensure uninterrupted enjoyment of the music without any dead spots.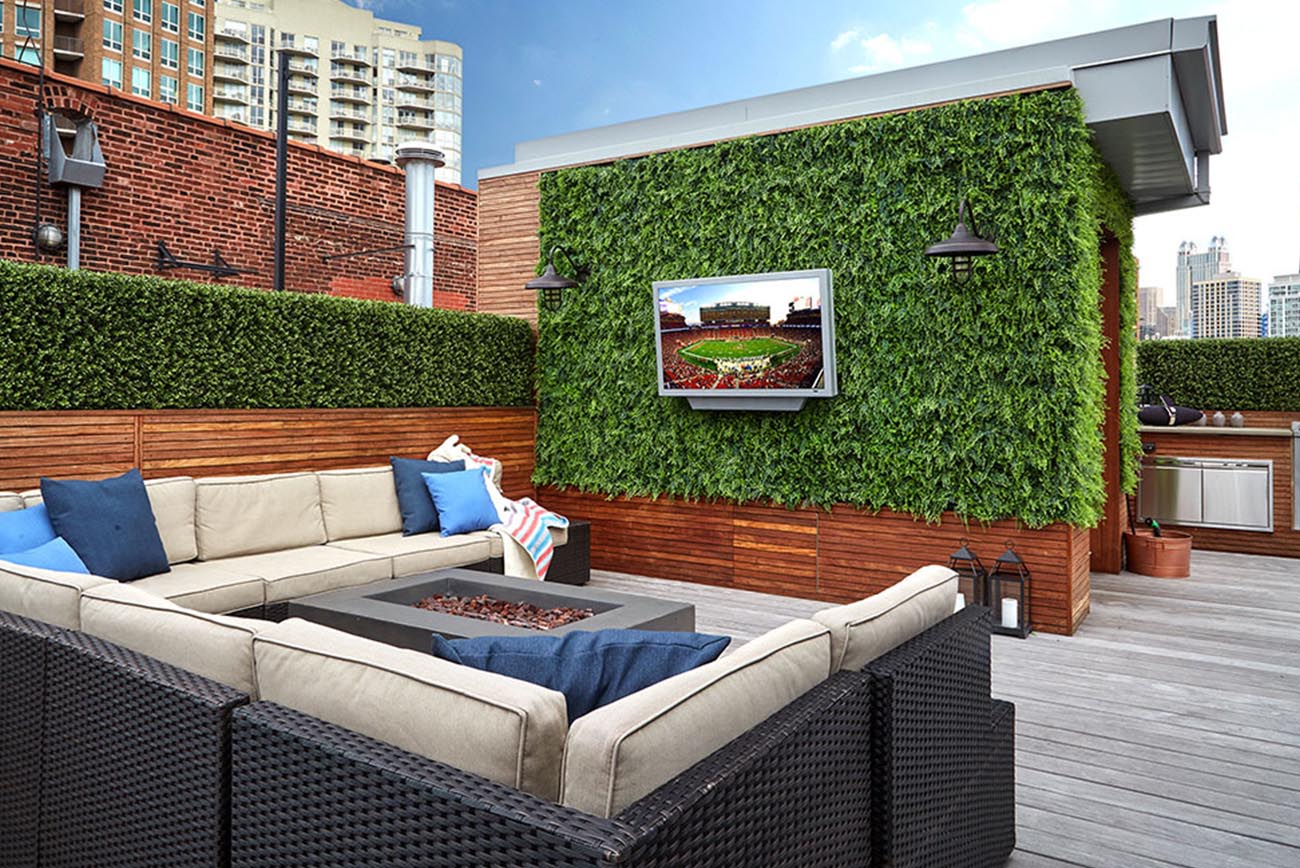 AUDIO SYSTEMS THAT CONNECT THE INDOORS AND OUTDOORS
The architects and designers at Chicago Roof are committed to designing decks that seem to flow seamlessly from the indoors to the outdoors. We understand that audio systems are an integral part of the ambiance. We'll organize advanced stereo systems with speakers that are carefully arranged throughout the house. The different audio zones must blend so that music envelops guests when they walk from the living room to out on the deck.
Rest assured that advanced equipment is used so you can choose to tone down the volume in specific areas only. Or, create entirely quiet zones to minimize disturbances to the neighbors. Several other nuances should be taken into consideration when setting up A/V systems for outdoor decks. For instance, the placement of trees, foliage, and the furniture. Appropriate angling is also needed to ensure proper sound throw for a full-bodied audio experience.
LET'S TALK ABOUT THE CUSTOMIZED A/V EXPERIENCE
Customization is the key to an enjoyable audio-visual experience. We'll help you pick out equipment that is integrated with smartphone apps. You can adjust the settings according to your mood for the day or evening. Long-range remote control is indispensable when you wish to adjust the volume in the middle of dinner.
An often-overlooked facet of outdoor A/V systems is Wi-Fi connectivity. Most advanced technology and equipment is designed with mobile phone app control. To ensure that you can make adjustments using the app, you'll need a robust internet connection. Rely on the technicians at CRDG to anticipate your needs and install outdoor access points, if needed, we'll rework the entire Wi-Fi systems for an exceptional experience complete with long-range (waterproof) remote controls.
 
Having the right A/V systems can make a huge difference in your outdoor living and entertainment experience. Trust in the folks at Chicago Roof Deck and Garden to navigate the complexities of how electronics work and create the perfect ambiance for you.