Planning Outdoor Entertaining this Winter? Heating Systems for Your Patio or Roof Deck
January 5, 2022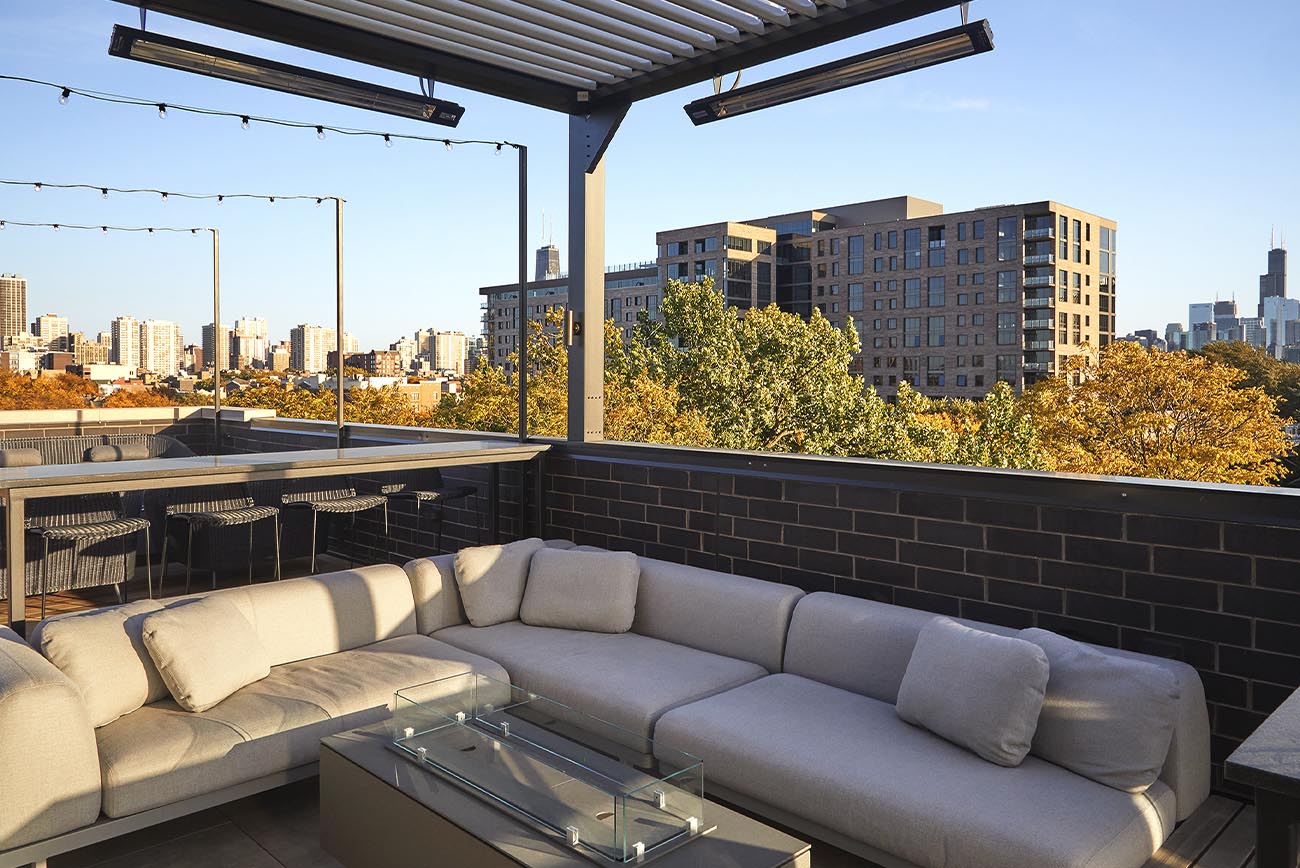 With the temperatures dropping to zero and sub-zero and Chicago's cold winds chilling your spaces, you'll need to prep your patio or deck for entertaining during the winters. You needn't worry about the weather forcing you indoors when you have efficient heating systems cozying up the area. Should you start to search around, you'll find an extensive range of heaters suitable for spaces of all sizes and dimensions. Before we start exploring your options, let's take a quick look at the main factors to consider.
HOW TO PICK THE RIGHT HEATER?
When choosing the right heater for your patio or deck, you'll focus on the expected functionality and the size of the spaces you need to be warmed. Here's how:
Functionality – What is the expected utility from the heater? Do you need warmth for a quiet evening with the family? Or, do you intend to invite friends over for a party with drinks and dinner?
Range – You could go with a compact, personal heater that keeps a group of four people warm. But, if it's a small crowd, you'll need a larger heater. If the deck is spacious, you might want to go with infrared heaters, which focuses heat instantly on specific area (e.g. sofa or dining table), not affected by wind and can be controlled through smart home management systems.
Fuel Source – Typically, heaters are powered by propane tanks, natural gas, and electricity. Before picking out the heater, you'll want to check for access to the fuel source. If you intend to plug it into the standard residential outlet, ensure there's no risk of malfunctions or hazards. Natural gas is another great option if you have a line installed in your home.
Heat Output – The heating effectiveness of your patio heater is measured in British Thermal Units (BTUs) for gas and propane-burning stoves and Watts for electricity-powered units. Typically, an average heater can generate between 30,000-50,000 BTU per hour. The higher the number, the faster the spaces will warm up.
Block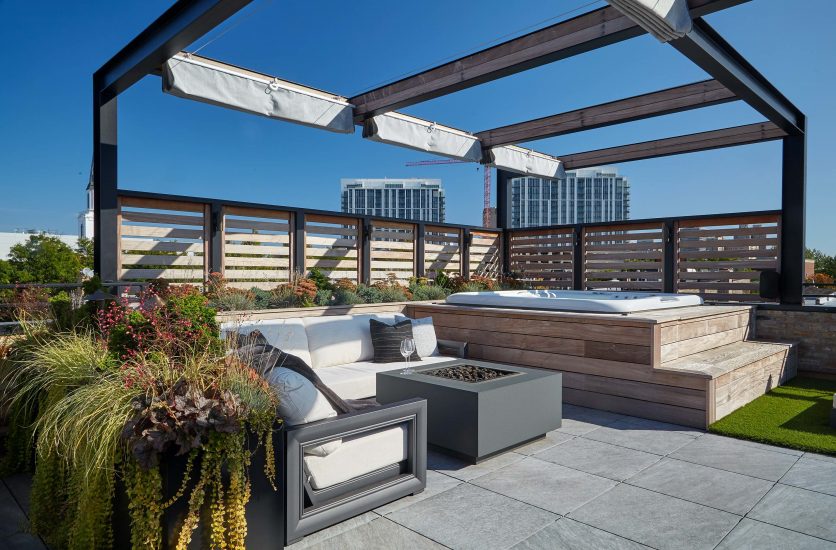 TYPES OF HEATING SYSTEMS
Standalone Propane-Powered Heaters
 
Standalone mushroom-capped heaters typically come with the propane cylinder hidden within its base for a stylish look and appeal. They usually come with a piezoelectric ignition which is similar to grills. Such heaters generate around 48,000 BTU of heat and warm spaces of around 200 square feet. The cap directs the warmth downward, making this option a highly practical choice. If you need smaller units, you can also find compact versions that you can set up on a tabletop.
Alternatively, you can go with the column heater powered by propane but burning a top to bottom flame. Such units generate warmth of around 46,000 BTUs and also emit a warm glow, lending a cozy ambiance to your spaces. Column heaters are available in various shapes, some with wheels for easy navigability.
 
Hanging Patio Heaters
 
Families short of space or having kids and pets running around can consider getting hanging patio heaters. These nifty devices can be mounted to a wall or ceiling and provide an output of 43,000 BTUs, which is sufficient to heat up an area of 200 square feet. You can set them up on easy-pivot arm brackets to get complete flexibility to move the heater in the direction where you need warmth. Further, remote controls allow you to control the temperature as needed. Such heaters typically run on power, so you'll need an outlet close by.
FIREPITS
 
If you're looking for compact heating systems powered by propane, gas firepits might just be the right solution. Available in a selection of materials and finishes, gas firepits have tanks concealed within the heater or are connected to the tank discreetly. You can expect a heat output of 40,000 BTU or more depending on the design you purchase. For instance, firepits built with lava stones, concrete, or even, aluminum or steel. Such heaters are portable which means that you can move and store them during the summer months.
Yet another option is to invest in firepits hidden inside the center table of your furniture. For example, you could get a linear, all-weather resin table made with wicker to match the chairs and couches. The firepit is hidden inside a tempered glass casing with a bed of glass rocks spread at the bottom. The exciting thing about this heating solution is that you can use it as a regular table during the warmer months.
 
Bioethanol Fire Pit Tables
 
If standard fuels like propane, gas, or electricity are not an option, bioethanol firepits are another practical option. These firepits are set up within stylish coffee tables in a range of colors and finishes. The fuel tank is placed inside the table and heat is generated by burning fuel through a burner. The entire contraption is shielded with tempered glass for safety.
 
Winter entertaining just took on a whole new style statement with the different kinds of heaters now available. If you would like more information about the best options for your home, contact us at Chicago Roof Deck & Garden, award-winning designers.